Welcome to the official home page for Composer/Arranger/Musician Sam Shoup and SamJamm Productions. Sam has over thirty years of experience writing, producing, recording, and performing commercial music in virtually every style category. More info and a listing of some of the people he has worked for can be found on the Bio Page. Sam's talents include Composing & Arranging for any size band or orchestra, Commercial Jingles, of which he has written and produced literally thousands, and Instrumental Music Tracks for video post production, corporate presentations, pageants, and other special events.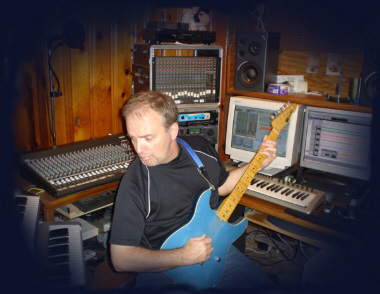 If You Need Great Music,
E-mail Sam Shoup Today!
---
---
What They're Saying....
Concert Review about the Memphis Symphony's concert with funk/soul icons, The Bar-Kays, featuring Sam's work.
Concert Review about the Opus One Chamber Orchestra's performance with Joyce Cobb on February 3, 2011, featuring Sam's work.

"...a great musician, it was a pleasure working with you."
- Ringo Starr
"...a brilliant arranger, his musical sensibilities are beyond compare" - Kallen Esperian

" Fantastic...the show was a great success in all respects. We can't thank you enough." - Gerry Beckley of America
"One of the best bassists I've ever seen" - Ray Charles






















What's New


Sam's recent work includes Beatles Medleys for The National Symphony, as well as The New York Pops and New Mexico Symphony. Sam also arranged The Opus One Chamber Orchestra's Big Star show on January 31, 2014. Here are some Youtube links to the performance.

Blue Moon featuring Jody Stephens

You and Your Sister featuring Loveland/Duren

I Am The Cosmos featuring Loveland/Duren

Nightime featuring Susan Marshall
---
Sam arranged Marvin Gaye's "What's Going On" album for The National Symphony Orchestra, featuring John Legend, Sharon Jones and The Dap Kings. The performance was May 3 and 4, 2012 at The Kennedy Center for The Performing Arts in Washington, DC. The concert commemorated 40th anniversary of Marvin Gaye performing the album there.
---
Sam did all of the arrangements for The Opus One Chamber Orchestra's concert with rapper Al Kapone, at the New Daisy Theatre, on historic Beale Street in Memphis, Nov. 10th, 2011. Read the Concert Review here.
---
International opera star Kallen Esperian and Sam Shoup do Led Zeppelin's classic, "The Immigrant Song".

"Immigrant Song"
---
Dog Police Video now on youtube.com

Dog Police